Traveling to visit our other communities and Associates of the Blessed Sacrament across the country has been a joy. Not to be outdone or forgotten, I have completed a canonical visit of our parish and communities here in Northeast Ohio through May. …We have three homes for our religious here, the one that is attached to the parish of Saint Paschal Baylon (SPB) in Highland Heights, Ohio, a community in University Heights, about six miles away next to John Carroll University, and a unique community for our religious who need extra assistance with their health at Regina Health Center in Richfield, Ohio. …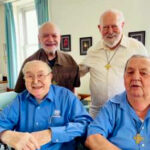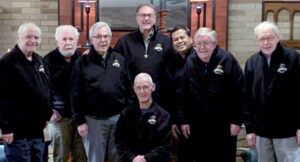 Several religious orders created Regina, our healthcare center, from a former convent and formation building thirty years ago. We have four religious at Regina, Brother Eugene Blee (the longest resident for almost 13 years) now lives on the second floor in long-term his new level of palliative care, Deacon Joe Bourgeois, Father Paul Bernier, and Brother Michael Perez all live on the third-floor in assisted living. …Two of our religious, Thomas Wiese and Michael O'Leary, reside in University Heights. Peter Van Tuong Nguyen also lived here for a while, doing sabbatical studies in Spiritual Direction at the university. Nine of our religious reside in the building we built in 1953 next to Saint Paschal Baylon parish property. The building was built with the vision of adding a seminary, and so we did during the 1960s. Now we can host up to 30 religious in this building. The seminary residence was converted into "en suite" rooms for our semiretired religious — currently, six of our religious reside in this East wing or Bethany Center. …The West wing of the building houses the parish offices on the first level and three of us religious living on the second floor. …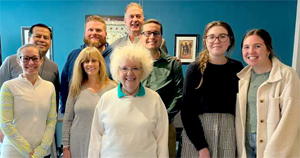 With my visits with different groups, but especially the Pastoral Staff and the Pastoral Council, I asked them what the "SSS Difference" is for this parish and how they appreciate serving with a religious congregation attached to a parish. Since the religious of the Blessed Sacrament have been part of the fabric of this parish from the start, members had to think hard about what it would be like not to have the SSS here. Since the provincial headquarters moved here in 1978, the parish has known the strong presence of our brothers, Deacon Joe, and priests. …They have appreciated the men who have served here and shared their talents and gifts, from gardening, art, and the environment to music, writing, and special retreats.
The provincial offices and our Saint Ann Shrine have also been located here since 1978. The province headquarters moved here to use the former seminary building attached to the original building. …
With my visits to the individual religious this month, I have grown more in my appreciation of their dedicated service and care in their service and devotion to the Eucharist, living the charism faithfully. I treasure the unique gift of our three locations for one community that still serves Northeast Ohio so well, bringing our mission in a unique way to the Diocese of Cleveland, but also, because of our headquarters here, serving as an international center of hospitality for our religious and others who come to experience the joys of our Eucharistic life and hospitality.
Photos: RIGHT TOP: SSS Religious at Regina Health Center (l-r standing) Brother Michael Perez, Father Paul Bernier; (l-r seated) Brother Eugene Blee and Deacon Joseph Bourgeois
LEFT TOP: SSS at Highland Heights: (left to right) Brother Michael Perez, Brother Allen Boeckman, Father Roger Bourgeois, Father John Thomas Lane, Father Juancho Ramos, Father Michael Arkins, Father Ernest Falardeau. (In front) Brother Gary LaVerdiere. Absent is Father John Keenan (on mission)
LEFT BOTTOM: Many of our Pastoral Staff of Saint Paschal Baylon Parish