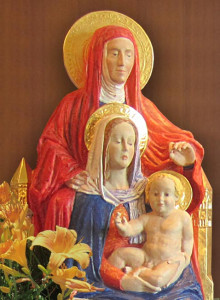 A Spirituality of a Wise and Compassionate Grandmother
So many of the people who have a devotion to Saint Ann are named after Saint Ann, or they have a significant loved one in their life whose name is Ann. Names are important. It's how people come to know us and how we come to know each other. We say someone's name. Someone says our name. It becomes part of our identity. It's how we are known. And when we come to know why our parents gave us our particular name, or we discover our patron saint, our name becomes all the more meaningful. We come to have a special relationship with that saint. We learn about their story. We pray for their intercession. And their example helps guide our lives.
Saint Ann means many things to many people. As a beloved daughter of God, as the loving mother of the Blessed Virgin Mary, as a caring grandmother to Jesus, Saint Ann is someone who listens. Saint Ann is someone who listens to our sufferings, listens to our burdens, listens to our joys, indeed she listens to all that we bring to her from our hearts. She listens like a loving mother and a wise and faith-filled grandmother, and then she brings our prayers to God, through her grandson, Jesus.
From our experience here at Saint Ann Shrine, so many people have come to see Saint Ann's intercession in their lives. We have received so many letters and phone calls and personal testimonies from people who feel that Saint Ann has helped them in their struggles. We have so many testimonies.
We'd like to share just a couple of them with you here. One person shared this, "After 6 years of divorce and estrangement I had a turn around. It began by going to Saint Ann church. Two weeks later a letter came from my wife. We are married again, (and have been) for 47 years." Another person shared this, "From the moment I was diagnosed with breast cancer, stage 3, I have prayed to Saint Ann. I am a breast cancer survivor now for 10 years." Another person shared this, "On July 26, 1963 Saint Ann welcomed our twin sons, Danny and David, born six months premature, into God's kingdom in heaven."
These three powerful testimonies speak to the real challenges of life: Struggles with family relationships, the news of a serious illness, the death of loved ones. These are things that touch all of our lives in some way. None of us emerges unscathed by the wounds and scars of life. We all suffer.
But where do we go when we are suffering? Where do we go when we need help? Where do we go with the bruises, scrapes, and wounds that life gives us? We go to someone who understands and offers compassion.
Do you remember learning to ride a bicycle? Unfortunately, that goes with a few crashes and scrapped knees and elbows. When you fell off your bicycle and scrapped your knee who would you go to for help? Many of us likely ran straight to our mothers. She'd offer a hug, tell us we would be okay, and clean our wounds. Who did she learn that from? Often, she learned it from her mom! How many young mothers call upon their mothers for advice as they navigate being a parent? They are a source of comfort and support providing reassurance and guidance. That's often our first experience of unconditional love and healing: through our mothers and grandmothers. We could likely surmise it was the same for Mary and Jesus when they were young. They needed Saint Ann's love and support.
Unfortunately, as we get older, life can get more complex and confusing. Our mothers and fathers can provide love and support, but they don't have the answers to all the challenges and sufferings we may encounter. Our grandparents can provide wisdom and care, but they too are human with their own limitations. More challenging still, at some point we all have to say goodbye to our beloved parents and grandparents, as their life on earth comes to an end.
We realize in all of this that we need God in our lives. We realize that God is our refuge. We realize that God walks with us through everything that life unexpectedly throws at us. A God who gives manna from heaven when people are starving. A God who nourishes us so that we may bear good fruit in our lives. A God who selflessly lets us come to know love and mercy through the gift of our mothers and grandmothers. A God who gives us the great example of all the saints, especially Saint Ann, to be witnesses of faith.
It is good to take some time away to give praise and thanks to a God so generous and merciful. A God who has given us Saint Ann, that we may not have to pray alone, but rather have a wise and loving grandmother to pray with. Good Saint Ann… pray for us.