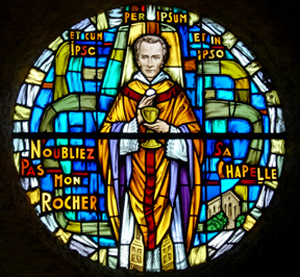 We are happy to assist you in discerning how God may be calling you to service in the Church as a Blessed Sacrament priest, deacon, brother, sister, or associate.
We are available to answer your questions and journey with you at this important time of your life. We look forward to being of service to you in your discernment.
For questions about a vocation to religious life or the priesthood please contact: Vocation Director, Fr John Thomas Lane SSS
For questions about becoming an Associate of the Blessed Sacrament please contact: Center for Eucharistic Evangelizing
Called to Religious Life
Is God calling you to priesthood and religious life? Marriage? Single life in the Church? How will you know what your life's vocation is?
Our Vocation Director is available to help you discover how God is calling you to serve in the Church. He would be delighted to assist you in the process of discernment.
The Congregation of the Blessed Sacrament is international! If you live in parts of the world other than the United States, we invite you to visit the website of our General Administration in Rome: www.ssscongregatio.org. There you will find information on the life and mission of Blessed Sacrament Religious and Associates worldwide; learn more about Saint Peter Julian Eymard, the Apostle of the Eucharist, our history; and explore possibilities for membership (including vocational discernment).
The Vocation Ministry of our Province serves inquirers and candidates in the United States.
If you are interested in speaking with us, please contact us at this link: