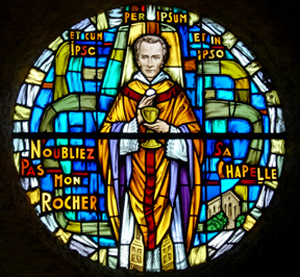 We are a Catholic religious congregation of priests, deacons and brothers whose mission is to share the riches of God's love manifested in the Eucharist. By prayer before the Blessed Sacrament and an active apostolic life, we strive to make Christ in the Eucharist better known and loved.
The Congregation of the Blessed Sacrament was founded in Paris, France, in the year 1856 by Saint Peter Julian Eymard. Throughout his life, Father Eymard searched for an answer to the deep spiritual hungers of his day, and he discovered it in the Eucharist. Inspired by this sacrament, he inaugurated a new way of life in the Church, one completely shaped by the Eucharist celebrated, contemplated, proclaimed and lived.
The Congregation of the Blessed Sacrament ministers in 29 countries around the world. In the United States of America (the Province of Saint Ann), our ministry of Eucharistic Evangelizing includes celebrating the sacraments, preaching, writing, teaching, counseling, and working for justice.
"Called to live as a eucharistic community, we seek, by our vocation and way of life, to give a more explicit witness to the life of Christ which springs from this sacrament."
Rule of Life 21
Contact the Congregation of the Blessed Sacrament