Discernment Resources for Religious Life and the Priesthood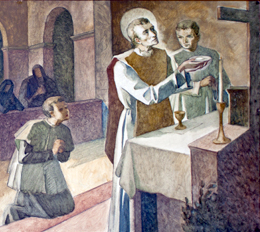 It seems like it was so easy for biblical characters like Saint Paul and the other apostles to follow Jesus! The Gospel of Mark tells us that as he walked along the Sea of Galilee, Jesus saw Simon and his brother Andrew fishing. He said to them, "Follow me and I will make you fishers of men," and immediately they left everything and followed him (see Mark 1:1-18).
Amazing, isn't it? They dropped everything, left their former way of life behind, and became Jesus' special disciples whom he made Apostles (see Mark 3:13-14). They had the opportunity to meet Jesus face-to-face and they heard his voice calling them to serve. But what about you? How do you know if Jesus is calling you to serve as a priest, deacon, sister or brother? What about marriage or living a holy life as a single lay person?
This section has resources to assist you in the process of what is called discernment. From biblical stories for your prayerful reflection, to pertinent questions to ask yourself and others like a priest or trusted adviser, and much more.
If you have questions along the way, please contact our Vocation Director. He's available to assist you as you discern if Jesus is inviting you to a eucharistic life in service to the Church as either a Blessed Sacrament priest or brother. Call (440) 442-6311 or email: Fr John Thomas Lane SSS
Discernment Resources FAQs
Have a question? Want to know more about religious life and priesthood? Interested in a Eucharistic life?
Below are some commonly asked questions we received in the vocation office from men discerning their vocation.
Prayer for Vocations:
Loving God our Father,
 your servant Saint Peter Julian Eymard,
 who was captivated by your Son's love 
as revealed to us in the Eucharist,
 greatly desired to manifest this love 
to his contemporaries.
He established a new form of religious life
 which is nourished by the Eucharist:
 celebrated, adored,
 and enriched with ministries of all kinds.
Through his intercession,
call forth many young people
 who will labor in your Church
 as priests, deacons, brothers, or sisters.
Give us the grace 
to become like the bread of the Eucharist 
which is broken for the life of the world.
Through Christ our Lord. Amen.