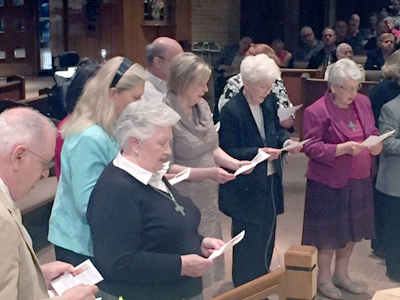 God continues to call and discern our vocations in life. We are happy to assist you in discerning God's call for you in a Eucharistic vocation. Whether ordained or lay, God may be calling you into the Eymardian family as a member of the Aggregation of the Blessed Sacrament (Associates).
We are available to answer your questions and journey with you at this important time of your life. We look forward to being of service to you in your discernment.
For questions about becoming an Associate of the Blessed Sacrament please contact: Center for Eucharistic Evangelizing or 440-442-6311
Called to be an Associate
Blessed Sacrament Associates are ordained priests, deacons, lay Catholic women and men, single or married, who share in the Eucharistic vocation developed by Saint Peter Julian Eymard. Associates commit themselves to be disciples and apostles of the Eucharist, supporting each other through the sharing of prayer and faith in regular meetings. They participate fully in the liturgy of the Eucharist, in personal prayer in the presence of the Blessed Sacrament, and engage in a variety of ministries to manifest the fruit of worship and prayer.
Associates partner with the Congregation of the Blessed Sacrament in proclaiming the riches of God's love in the Eucharist.
After a period of formation and discernment, they make a public covenant with a promise to place the Paschal Mystery of Christ's self-giving in the Eucharist at the center of their life. To grow as covenanted people, the associates gather often to pray together, encourage one another, and grow in their understanding of the Eucharist.
In partnership with the Congregation of the Blessed Sacrament, Associates form communities of friendship and faith whose center of life is the Eucharist celebrated, contemplated, proclaimed, and lived. This companionship with the congregation is expressed through active engagement in its mission of eucharistic evangelizing; through liturgical ministries and parish service, Communion ministry to the aged and infirm, promotion of eucharistic adoration, Life in the Eucharist programs, parish missions, outreach to the poor, and other ministries.
Formation as an Associate of the Blessed Sacrament is ongoing and designed to help the associate live and grow as a witness to the Eucharist.
Members of the Aggregation are aware
 that their sharing in the charism
 will be all the more fruitful and profound 
insofar as they become imbued
 with an authentic Christian spirit in accord with 
the spirituality and the mission of the Congregation itself.

To foster this purpose, they take part 
in the formation initiatives and gatherings
 arranged for them at the local and congregational levels.

Members will attend to their personal formation 
by study and reflection,
 deepening their understanding of the Holy Scriptures,
the church's teaching, and the spirituality of the founder.
Rule of Life for Associates 21
 If you are interested in learning more about becoming an Associate of the Blessed Sacrament, contact us at:
Center for Eucharistic Evangelizing

Congregation of the Blessed Sacrament

5384 Wilson Mills Road
Highland Heights, OH 44143
Telephone: 440-442-6311
E-mail: cee@blessedsacrament.com