Triduum Masses for Saint Ann Day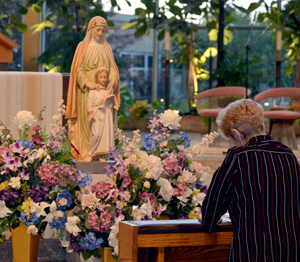 Saint Ann Shrine and the Congregation of the Blessed Sacrament Celebrate Saint Ann with Triduum Masses
For the patron saint of the American Province of the Congregation of the Blessed Sacrament, these liturgical days rise to the rank of a "solemnity." The Triduum is the annual three days of prayer for the Solemnity of Saint Ann, celebrated July 24 – 26 each year in Saint Paschal Baylon, Highland Heights, Ohio. The address for the campus is on Wilson Mills Road; parking is available south of the church and accesses by the streets on either side of the campus (Colony Drive or Blue Ribbon Way).
At the original American shrine to Saint Ann, Saint Jean Baptiste Church, New York, New York, a nine day novena occurs.
This webpage focuses on the national headquarters shrine in Ohio.
When
July 24, 25 and 26
Where
Saint Paschal Baylon Catholic Church

5384 Wilson Mills Road

Highland Heights, Ohio 44143

Parking South of the Church
Why
• Day 1 Mass: Special Blessing for Children
• Day 2 Mass: Anointing of the Sick
• Day 3 Mass: Special Candlelight Procession and Feast Day
All Three Masses include Veneration of the Relic of Saint Ann
R.S.V.P. or for more information contact:
Scott R. Gongos

Director of Mission Advancement
sgongos@blessedsacrament.com
440-449-2700