Receive Bread Broken & Shared Newsletter
The free newsletter for friends and Associates of the Congregation of the Blessed Sacrament.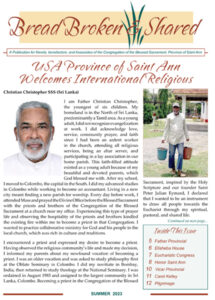 Summer 2023
Dear Friend,
Summer is here! We share with you this Summer 2023 edition of Bread Broken & Shared. If you desire, we will send the issues out to you digitally if your email address is on our list. If you prefer to receive ONLY the digital electronic copy and not the printed newsletter in the mail, send us an email at breadbrokenandshared1856@gmail.com to request this.
In this issue of our Newsletter, Bread Broken & Shared, we introduce you to some of our international religious who will be sharing in our eucharistic mission in the USA. We are most grateful to them for their willingness and generosity to work alongside us. We alert you to some special upcoming events: The Eymard Pilgrimage to France (November 2024), the Eucharistic Congress (August 4-6, 2023), the upcoming Saint Ann Triduum (July 24-26, 2023), and our new SSS Website which is NOW alive! Our provincial superior, Father John Thomas Lane SSS, reflects on some of our upcoming events. Take time to view and explore our new revised website – www.blessedsacrament.com.
Archive: Bread Broken & Shared
Summer 2023 Dear Friend, Summer is here! We share with
Dear Friend, May the Blessings of the Paschal Triduum and
Dear Friend, Welcome back to Bread Broken & Shared! After