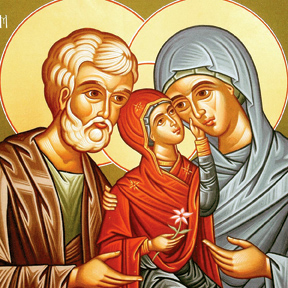 Tradition has it that Saint Ann and Saint Joachim were married for 20 years, but didn't have any children. They prayed to God for a child and promised that if God granted their wish, they would dedicate this child to God.
According to age old traditions, while Saint Joachim was living with shepherds, an angel came to him and promised, "Your wife will bear a daughter and you will call her Mary. She will be filled with the Holy Spirit from her mother's womb." An angel also appeared to Saint Ann at the same time and related the same happy news to her.
Good Saint Ann is the mother of the Blessed Virgin Mary, who became the mother of Jesus and of the whole church. Saint Ann and Saint Joachim lived their lives with great trust in God. After the death of Saint Joachim, Saint Ann was a source of love and strength for her daughter Mary, and her beloved grandson Jesus — our Lord and Savior.
Saint Ann and Saint Joachim's trust in God gave them the strength and perseverance necessary to be model parents and grandparents. Their lives are an example for all of us.
The feast day of Saint Ann and Saint Joachim is July 26. It has been traditionally held that Saint Ann is the patron saint of pregnant women, mothers, grandmothers, and housewives; and Saint Joachim is the patron saint of fathers and grandfathers.