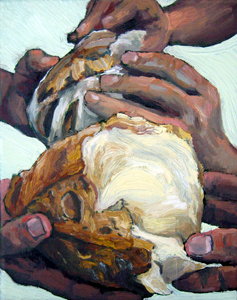 Saint Peter Julian was both a disciple of the Eucharist and an apostle of the Eucharist. His spirituality was formed by the celebration of the Eucharist and by prayerful contemplation of its meaning, and his ministry flowed from it. He viewed the Eucharist as a powerful means for the renewal of the Church and the transformation of society, and as a response to the deep hungers of humanity.
Following in his footsteps, Blessed Sacrament religious believe that Christ in the Eucharist has the power to effect a radical transformation in our society and in all people. The power of the Eucharist motivates and strengthens them to work for the establishment of Christ's kingdom on earth.
Blessed Sacrament religious share a common mission: to allow the mystery of the Eucharist to take hold of their lives so completely that they will live this mystery fully and proclaim its meaning through many diverse ministries.
We serve in a wide variety of ministries:
• administering parishes
• celebrating the sacraments
• accompanying those who are journeying in faith through the catechumenate
• liturgical training and programs of formation for ministry
• writing
• teaching
• retreat work
• promoting Christian unity and dialogue among religions
• involvement in social ministries that serve the poor and marginalized
• extending hospitality to priests and offering programs of spiritual formation of the clergy and hospitality toward them.
Following in the footsteps of Saint Peter Julian Eymard, our mission is to respond to the hungers of the human family with the riches of God's love manifested in the Eucharist.
Rule of Life 3