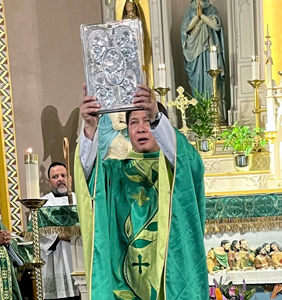 On Saturday, July 29, the vigil of the 17th Sunday in Ordinary Time, Filipino-American Father Mark del Rosario SSS became the new pastor of the historic Riverwalk church of Saint Joseph Downtown in the Archdiocese of San Antonio….The Provincial Superior of the Philippine Province, Very Reverend Roel della Cruz SSS, and the provincial secretary, Fr Bryan Adona SSS flew from Manila and their SSS headquarters there to represent Fr Mark's home province and the new collaboration between the Provinces of Saint Ann (USA) and Our Lady of the Assumption (Philippines).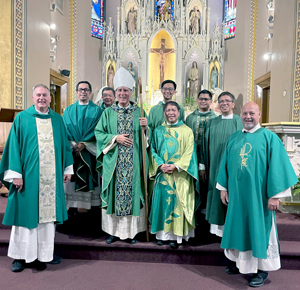 The installation began Friday, July 28, when several Associates from the Archdiocese of San Antonio, who have newly received their approbation or recognition in the Archdiocese, gathered. Billy Stewart led the excellent potluck dinner and gathering. We enjoyed the remarkable hospitality of our associates and native foods to welcome Fr Mark and the other religious who joined in the celebration.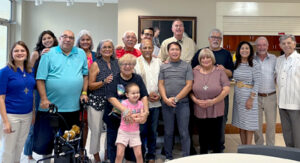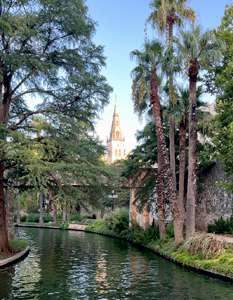 Our parish is in an extraordinary location on the Riverwalk, where tourists and locals visit regularly for the sacraments and prayer in the presence of the Blessed Sacrament. With our SSS presence since 1982, we hope for it to grow for many years in the first joint pastorate of both provinces of the Congregation of the Blessed Sacrament. It is a historic first to have a joint mission between provinces – one repeated now also in Holiday, Florida, where we will install another new pastor at the end of September.
Photos [Clockwise from top left]: Father Mark Del Rosario SSS, new pastor of Saint Joseph Downtown Church, presenting the Book of the Gospels;
[L-R] Fr John Thomas Lane, Fr Anthony Pangan, Fr Thai, Bishop Gary, Fr Bryan Adona, Fr Roel dela Cruz, Fr Joseph Matitu, Deacon Vincent;
San Antonio Associates pictures with Father Mark Del Rosario SSS;
St Joseph Church taken from the San Antonio Riverwalk